Appears in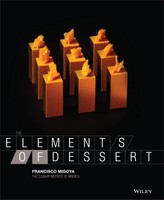 Ingredients
Pandan-Infused Heavy Cream
Pandan leaves (see Resources) 200 g 7.05 oz 21.05%
Heavy cream 750 g 1 lb 10.4 oz 78.95%
Pandan Leaf Caramelized Cream
Pandan-Infused Heavy Cream 690 g 1 lb 8.32 oz 89.1%
Sugar 80 g 2.82 oz 10.33%
Agar-agar 3 g 0.1 oz .36%
Locust bean gum 2 g .06 oz .21%
Method
For the pandan-infused heavy cream: Chop the pandan leaves coarsely and combine with the heavy cream in a small sauce pot.
Bring to a simmer over medium-high heat. Take the pot off the heat and let the leaves steep for about 5 minutes. If the cream boils or if the leaves are steeped for too long, the cream will taste like fi sh.
Strain the liquid and use immediately or keep hot. Measure the amount for the caramelized cream. If not using immediately, cool in an ice water bath and reserve refrigerated for up to 5 days.
For the pandan leaf caramelized cream: Place 10 oval tubes measuring 7.5 cm/3 in long by 4 cm/1.5 in diameter over a fl at sheet pan lined with a 3-mm/.12- in-thick sheet of rolling fondant. The dimensions of the fondant should be a 15.25-cm/6-in square; roll it out by hand or use a sheeter. This will ensure that the liquid does not seep through the tubes as long as the tubes are pushed slightly into the fondant. It also helps keep the tubes in place. The tubes do not need to be lined because once the cream sets, it can be gently pushed out without it sticking to the tube.
Combine the pandan-infused heavy cream and the sugar in a small sauce pot. Using a handheld blender, shear in the agar and locust bean gum (pour it in slowly). Switch to a whisk at this point because the continued use of the blender will introduce too many bubbles.
Bring the liquid to a boil while stirring. Let it boil for 5 seconds, then turn off the heat.
Pour the cream into the prepared tubes and refrigerate.
Once the cream has set, it can gently be pushed out of the tubes from the bottom of the mold. Discard after 3 days.