Appears in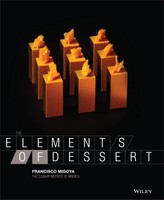 Ingredients
Salt 3 g .11 oz .35%
All-purpose flour 60 g 2.12 oz 6.99%
Almond paste 320 g 11.29 oz 37.3%
Black sesame paste 80 g 2.82 oz 9.32%
Eggs 250 g 8.82 oz 29.14%
Invert sugar 35 g 1.23 oz 4.08%
Butter, melted but cool 110 g 3.88 oz 12.82%
Method
Spray the interior border of a half sheet pan with nonstick oil spray. Line it with a nonstick rubber mat.
Preheat a convection oven to 160°C/325°F.
Sift the salt with the flour. Mix the almond paste with the black sesame paste in the bowl of an electric mixer fitted with a paddle attachment until a homogenous mass is obtained.
Add the eggs slowly and mix until they are completely combined. Scrape the bowl and mix well for a few more seconds. Add the invert sugar and mix completely
Stop the mixer and add the flour mixture. Pulse the mixer until it is just incorporated. Scrape the bowl and mix for a few more seconds. Pour in the melted butter and mix until fully incorporated.
Pour the batter onto the prepared sheet pan and spread it out evenly. Bake until done, 8 to 10 minutes, or when the cake springs back when gentle pressure is applied with your fingertips.
Cool to room temperature, and then transfer to the refrigerator for at least 1 hour before cutting. It cuts better when it is chilled. Cut the bread into rectangles that measure 5 cm/2 in wide by 7.5 cm/3 in long by 5 mm/.25 in thick.
Reserve in an airtight container at room temperature during service. Discard any left over after service.