Appears in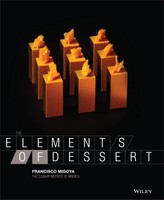 Ingredients
Hisbiscus Infusion
Dried hibiscus leaves 50 g 1.76 oz 11.11%
Water, at 95°C/205°F 400 g 14.11 oz 88.89%
Glaze
Hibiscus Infusion 230 g 8.11 oz 73.02%
Sugar 60 g 2.12 oz 19.05%
Clear glaze (mirror glaze; see Resources) 25 g .88 oz 7.94%
Method
For the hibiscus infusion: Combine the hibiscus leaves and the water and let the hibiscus infuse the water for 10 minutes. Strain the liquid.
For the glaze: Combine the infusion with the sugar in a small sauce pot and bring the liquid to a boil. Reduce the mixture to one-third of its original weight (about 75 g/2.5 oz).
Let the liquid cool to room temperature.
Stir in the clear glaze. Reserve at room temperature in an airtight container. This glaze will keep indefinitely due to its high sugar content and low moisture content.