Appears in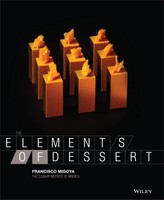 Ingredients
All-purpose flour 435 g 15.34 oz 25.14%
Salt 6 g .21 oz .35%
Baking powder 9 g .32 oz .52%
Sugar 470 g 1 lb .58 oz 27.17%
Eggs 175 g 6.17 oz 10.12%
Natural green mint paste; no coloring 60 g 2.12 oz 3.47%
Canola oil 235 g 8.29 oz 13.58%
Milk 340 g 11.99 oz 19.65%
Green Velvet Spray
Cocoa butter 200 g 7.05 oz 44.44%
White chocolate 200g 7.05 oz 44.44%
Carnival green cocoa butter 50 g 1.76 oz 11.11%
Method
Lightly grease the interior border of a half sheet pan with nonstick oil spray. Line it with a nonstick rubber mat.
Preheat a convection oven to 160°C/325°F.
Sift the flour, salt, and baking powder together.
In the bowl of an electric mixer fitted with a paddle attachment, whip the sugar, eggs, and green mint paste with an electric mixer until it is a homogenous mass and has quadrupled in volume (ribbon stage). Slowly pour in the canola oil to make an emulsion by pouring it down the side of the bowl as it mixes.
Alternate adding the sifted dry ingredients with the milk to the mixer bowl.
Pour the batter into the prepared pan and bake it until done, 12 to 18 minutes or until the cake springs back when gentle pressure is applied with your fingertips at the center of the pound cake.
Cool to room temperature, and then chill in the refrigerator; it cuts better when it is cold.
Cut the cake using a 6.25-cm/2.5-in diameter doughnut cutter. Freeze the rings on a flat sheet pan lined with a nonstick rubber mat.
For the green velvet spray: Combine all of the ingredients in a bowl and melt over a hot water bath.
Set up a spray station, a surface that should be covered with plastic to keep the shop clean where you can spray the cake.
Fill a compressor canister with the green velvet spray and spray the cakes with an even coating of spray. Keep the compressor gun at least 60 cm/24 in from the cake to obtain a velvety smooth look. Reserve in the refrigerator during service. Discard after 2 days.
,