Appears in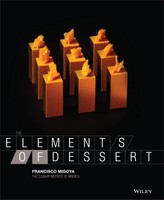 Ingredients
Heavy cream 50 g 1.76 oz 23.81%
Candied violet petals, ground in a coffee grinder 35 g 1.23 oz 16.67%
White chocolate, melted and cooled 125 g 4.41 oz 59.52%
Method
Bring the heavy cream to a boil in a sauce pot. Add the candied violet petal powder.
Stir in the melted white chocolate.
Let the mixture cool to room temperature before piping it into the macarons.
Pipe about 2 g/.07 oz onto the flat side half of the macarons, then top each macaron with another macaron, sandwiching the filling. Reserve the filled macarons refrigerated in an airtight container.