Appears in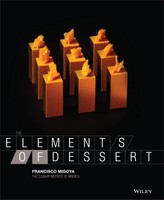 Ingredients
Water 1 kg 2 lb 3.2 oz 85.37%
Indonesian cinnamon sticks, toasted 200 g 7.05 oz
Sugar 150 g 5.29 oz 12.81%
Salt .2 g .01 oz .02%
Egg white powder 20 g .71 oz 1.71%
Xanthan gum 1 g .04 oz .1%
Method
Bring the water to a boil in a small pot. Add the toasted cinnamon and turn off the heat. Ideally, the cinnamon should still be hot from toasting for the best flavor infusion. Cover the pot with plastic wrap and let the cinnamon steep for 10 minutes.
Strain the liquid and cool it over an ice water bath. Discard the cinnamon.
Mix the infused water, sugar, salt, egg white powder, and xanthan gum in a blender on medium speed for 5 minutes.
Chill for 2 hours before service. Discard the bubbles after service.