Appears in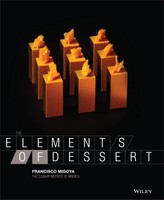 Ingredients
Sugar 280 g 9.88 oz 27.7%
All-purpose flour 160 g 5.64 oz 15.83%
Cocoa powder 75 g 2.65 oz 7.42%
Baking soda 3 g .11 oz .3%
Baking powder 2 g .07 oz .2%
Salt 1 g .04 oz .1%
Eggs, at 21°C/70°F 100 g 3.53 oz 9.89%
Egg yolks, at 21°C/70°F 40 g 1.41 oz 3.96%
Butter, melted but cool 40 g 1.41 oz 3.96%
Buttermilk, at 21°C/70°F 160 g 5.64 oz 15.83%
Fresh brewed coffee, at 21°C/70°F 150 g 5.29 oz 14.84%
Water 350 g 12.34 oz
Corn syrup 100 g 3.52 oz
Method
Line a half sheet pan with a nonstick rubber mat; spray the interior border with a light mist of nonstick oil spray
Preheat a convection oven to 160°C/325°F.
Sift all of the dry ingredients onto a sheet of parchment paper.
Place the eggs and the egg yolks in a bowl large enough to hold all of the ingredients in the recipe, and then slowly whisk in the melted butter. Slowly whisk in the buttermilk and, finally, the coffee.
Whisk the dry ingredients into the emulsified liquid, whisking constantly until a homogenous mass is obtained.
Pour the batter onto the prepared sheet pan and spread it out evenly using an offset spatula.
Bake for 10 minutes, rotate the sheet pan, and bake for 7 to 9 more minutes or until the center of the cake springs back when gentle pressure is applied with the fingertips.
Let the cake cool to room temperature. Once it has cooled, break it into small pieces and put the pieces in a blender cup, along with the water and corn syrup. Blend on high speed until puréed. Adjust the consistency if necessary. It needs to be soup-like, not very loose but not very thick either; it will thicken as it sits, so you may need to add some water and stir it in during service.
Reserve at room temperature. Discard after 2 days. Do not refrigerate; refrigerating will slow down the softening of the frozen panna cotta when you assemble the dessert.