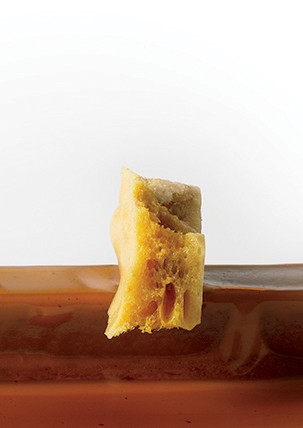 Appears in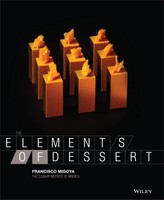 Ingredients
Salted Peanut Butter
Peanuts, toasted and warm 1 kg 2 lb 3.17 oz 99.01%
Fleur de sel 10 g .35 oz
Salted Peanut Butter Ice Cream
Milk 683 g 1 lb 8 oz 62.09%
Milk powder 64 g 2.26 oz 5.82%
Sugar 170 g 6 oz 15.45%
Ice cream stabilizer 3 g .11 oz .27%
Egg yolks 80 g 2.82 oz 7.27%
Salted Peanut Butter 100 g 3.53 oz 9.09%
Method
For the salted peanut butter: Grind the peanuts with the salt in a Robot Coupe while the peanuts are still warm until completely smooth.
For the salted peanut butter ice cream: Follow the method for pistachio ice cream.
Age the base for least 4 hours before churning.
Place 10 rectangular stainless-steel molds measuring 2 cm/.75 in wide by 15 cm/6 in long by 2 cm/.75 in deep on top of a flat half sheet pan lined with a nonstick rubber mat in the freezer.
Churn the ice cream and pour it into a piping bag.
Pipe the ice cream into the frozen molds. Even out the top with an offset spatula.
Return the filled molds to the freezer to harden the ice cream.
Once the ice cream is hard, take the steel molds off by gently applying heat with a torch, trying to not get too close to the ice cream but focusing on the mold.
Take the mold off and return the ice cream rectangles to the freezer to harden. Once they have hardened again, keep them covered to prevent frost from accumulating on their surface.
After 2 days, melt the ice cream rectangles down and re-churn once more.