Appears in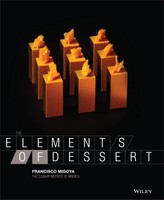 Ingredients
Raisin Stock
Cola 1 kg 2 lb 3.27 oz 58.82%
Raisins 700 g 1 lb 8.69 oz 41.18%
Raisin Jelly Veil
Raisin Stock 400 g 14.11 oz 88.07%
Sugar 50 g 1.76 oz 11.01%
Gellan gum 4 g .15 oz .92%
Method
For the raisin stock: Combine the cola and raisins in a sauce pot and bring to a boil. Turn off the heat and cover the pot with plastic wrap. Steep for 30 minutes.
Strain the liquid through a fine-mesh sieve, pushing as much liquid out as possible.
Cool the liquid over an ice water bath. There should be about 500 g/1 lb 1.64 oz of the mixture left after steeping.
For the raisin jelly veil: Follow the method for the Chocolate Veil. The sugar is combined with the raisin stock in the sauce pot.
Once the gel has set, cut it into rectangles measuring 10 cm/4 in wide by 15 cm/6 in long.
Reserve the rectangles on the tray on which they were made. Keep covered during service. Discard after 3 days.
,