Appears in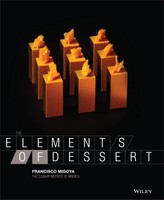 Ingredients
Roasted and salted peanuts 290 g 10.23 oz 36.2%
Sugar 237 g 8.36 oz 29.59%
Corn syrup 257 g 9.07 oz 32.08%
Baking soda 17 g .6 oz 2.12%
Method
Combine the peanuts, sugar, and corn syrup in a 3.78-L/4-qt sauce pot.
Cook over medium-high heat while stirring with a heat-resistant spoon until the sugar begins to caramelize. Take the pot off the heat and stir in the baking soda.
Pour onto a greased marble surface or a sheet pan lined with a nonstick baking mat.
Let the brittle cool and then break it into bite-size pieces.
Reserve in a dehydrator set to 45°C/115°F during service. Brittle is very susceptible to moisture and will become tacky at the slightest increase in ambient humidity. Stored in an airtight container with silica gel in a cool, dry place, it can keep for a few months.