Appears in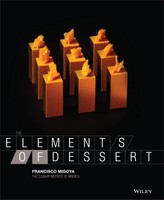 Ingredients
Mascarpone 920 g 2 lb .32 oz 83.64%
Maple sugar 170 g 6 oz 15.45%
Gelatin sheets, silver, bloomed in cold water, excess water squeezed out 10 g .35 oz .91%
Brioche loaf, sliced .75 cm/.25 in thick, crust removed 10 10
Method
Combine the mascarpone, maple sugar, and gelatin sheets in a bowl and melt gently over a hot water bath.
Meanwhile, place the brioche slices in a hotel pan lined with plastic wrap. A normal Pullman brioche loaf slice is about 10 cm /4 in square. You will need to trim each slice to be 8.75 cm/3.5 in square.
Pour half of the warm mascarpone cream on top of the brioche slices and allow it to soak in. Refrigerate.
Let the remaining cream cool, then pour it into the chocolate shell to fill 5 mm/.2 in. Transfer to the refrigerator to set.
Put 1 soaked brioche square inside each chocolate shell; push down to flatten the brioche. Reserve in the refrigerator for up to 1 week. Meanwhile, make the crispy wafer morsels and milk chocolate base.