Appears in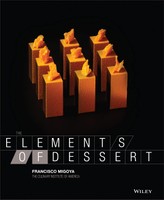 Ingredients
Meyer lemon juice 160 g 5.64 oz 12.5%
Sugar 240 g 8.47 oz 18.75%
Eggs 160 g 5.64 oz 12.5%
Butter 200 g 7.05 oz 15.63%
Heavy cream 500 g 17.64 oz 39.06%
Gelatin sheets, silver, bloomed in cold water, excess moisture squeezed out 15 g .53 oz 1.17%
Meyer lemon zest 5 g .18 oz .39%
Method
Combine the lemon juice, sugar, and eggs in a bowl and cook over a hot water bath until the mixture reaches 80°C/175°F. After it reaches that temperature, stir for 3 minutes over the hot water bath.
Take the bowl off the hot water bath and stir in the butter until it is completely dissolved.
Let the curd cool at room temperature.
Meanwhile, whip the heavy cream to medium-soft peaks and reserve refrigerated.
Add one-quarter of the curd to the bloomed gelatin and melt over a hot water bath. Stir the remaining curd into it.
Stir one-quarter of the whipped cream vigorously into the curd with a whisk.
Fold half of the remaining whipped cream into the curd with a rubber spatula. Fold in the rest of the whipped cream and the lemon zest.
Use the mixture immediately to fill the molds.