Appears in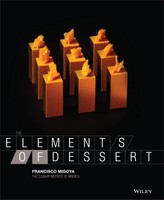 Ingredients
All-purpose flour 150 g 5.29 oz 7.53%
Cocoa powder 60 g 2.12 oz 3.01%
Salt 5 g .16 oz .23%
Baking soda 8 g .26 oz .38%
Baking powder 6 g .21 oz .3%
Sugar 300 g 10.58 oz 15.05%
Eggs 125 g 4.41 oz 6.27%
Buttermilk 185 g 6.53 oz 9.28%
Cold brewed coffee 170 g 6 oz 8.53%
Butter, melted but cool 85 g 3 oz 4.26%
Luxardo cherries, drained 300 g 10.58 oz 15.05%
Crème fraîche 500 g 1 lb 1.64 oz 25.09%
Sugar 100 g 3.53 oz 5.02%
Dark chocolate, melted 150 g 5.3 oz
Method
Preheat a convection oven to 160°C/325°F.
Lightly grease a half sheet pan with nonstick oil spray, and line it with a nonstick rubber mat.
Sift the flour, cocoa, salt, baking soda, baking powder, and sugar. Place in a large bowl.
Combine the eggs, buttermilk, and coffee in a mixer bowl and whisk together to obtain a homogenous mix.
Place the bowl with the dry ingredients on an electric mixer fitted with the paddle attachment. Mix on low speed and slowly pour in the egg mixture.
Once the liquid has been completely incorporated, pour in the butter and mix until it has combined completely.
Pour the batter into the prepared sheet pan. Sprinkle the cherries on top of the batter in a single, even layer. Bake until the cake springs back when it yields to gentle pressure, 8 to 12 minutes.
Let the cake cool at room temperature, and then refrigerate it.
Meanwhile, whip the crème fraîche with the sugar until stiff and then spread it on top of the cake in an even layer.
Place the cake in a freezer to harden. Using an offset spatula, flip the cake over and spread the melted chocolate over the entire cake base in a thin, even layer. The chocolate will crystallize almost immediately, so work quickly. Flip the cake back over and reserve until needed. The cake will keep for up to 3 days.