Appears in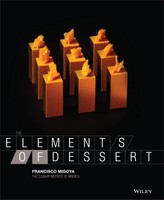 Ingredients
Eggs 325 g 11.46 oz 20.25%
Sugar 135 g 4.76 oz 8.41%
Dark chocolate coins 64% 430 g 15.17 oz 26.79%
Heavy cream 715 g 1 lb 9.12 oz 44.55%
Method
Combine the eggs with the sugar in a bowl and bring the mixture up to 60°C/140°F over a hot water bath while stirring constantly.
Remove the mixture from the heat and pour it into the bowl of an electric mixer. Whip on high speed until it cools to 35°C/95°F and creates ribbons, about 10 minutes.
Meanwhile, melt the chocolate over a hot water bath or in a microwave. Let it cool to 35°C/95°F.
Once both the egg mixture and the chocolate are at the right temperature, strain the egg mixture through a sieve over the chocolate and mix with a whisk until you obtain a homogenous mass.
Whip the heavy cream to medium peaks.
Fold half of the whipped cream into the chocolate mixture. Fold in the remaining whipped cream. Fill a piping bag with the mousse and follow the assembly procedure instructions for finishing the cakes.