Appears in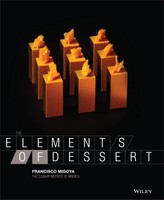 Ingredients
Calcium Solution
Calcium lactate 2.2 g .07 oz 1.8%
Water 120 g 4.23 oz 98.2%
Jelly
Calcium Solution 4 g .14 oz .97%
Sugar 1 50 g 1.76 oz 12.14%
Reliant grape juice 350 g 12.35 oz 84.95%
Pectin 4 g .14 oz .97%
Sugar 2 4 g .14 oz .97%
Method
For the calcium solution: Combine both ingredients. Reserve refrigerated.
For the jelly: Bring the calcium solution, the first amount of sugar, and the Reliant grape juice to a boil in a small sauce pot.
Meanwhile, mix the pectin well with the second amount of sugar.
Shear the pectin-sugar mixture into the grape juice mixture with a handheld blender.
Return to a boil for 1 minute.
Pour into silicone oval molds (see Resources).
Cool in refrigeration and then freeze.
Once they are frozen, they can be unmolded and reserved frozen in an airtight container or well wrapped. Discard after 1 month.