Appears in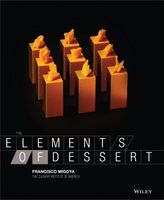 Ingredients
Mascarpone, soft 680 g 1 lb 7.84 oz 45.21
Method
Combine the mascarpone, peanut butter, sugar, and heavy cream in a bowl and mix over a warm water bath until homogenous.
Remove one-quarter of the mixture and heat it up with the bloomed gelatin in a separate bowl over a hot water bath.
Return the warmed peanut butter-gelatin portion to the original mixture and stir until homogenous using a whisk.