Appears in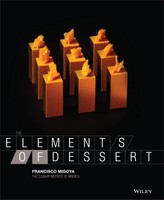 Ingredients
Heavy cream 700 g 1 lb 8.64 oz 81.97%
Sugar 120 g 4.23 oz 14.05%
White miso paste 30 g 1.06 oz 3.51%
Universal pectin 4 g .14 oz .47%
Method
Have the bowls with the kumquat marmalade ready (or the cup or bowl to be used to hold the cream).
Combine the heavy cream, sugar, and miso paste and bring to a boil, stirring to dissolve the miso paste. Alternatively, a handheld blender will do a better job of dissolving the paste completely.
Pass the mixture through a fine-mesh sieve. Return to a boil and, once it boils, use a handheld immersion blender to shear in the pectin (pour it in slowly).
Cook at a low boil over medium heat for 1 minute while stirring.
Pour into the prepared bowls using a funnel. Refrigerate to cool the cream.