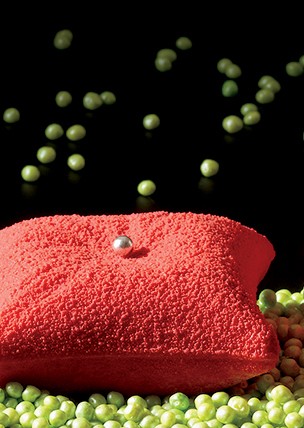 Appears in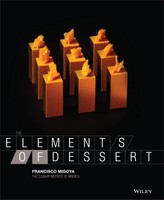 Ingredients
Milk 1 1.2 kg 2 lb 10.24 oz 82.76%
Reine-des-prés 250 g 8.82 oz 17.24%
Cornstarch 80 g 2.82 oz 5.41%
Milk 2, at room temperature 80 g 2.82 oz 5.41%
Egg yolks, at room temperature 200 g 7.05 oz 13.51%
Sugar 200 g 7.05 oz 13.51%
Milk 3 920 g 32.45 oz 62.16%
Method
Bring the first amount of milk to a simmer and stir in the reine-des-prés. Turn off the heat and cover the milk with plastic wrap.
Let the mixture steep for 20 minutes, then pass the milk through a fine-mesh sieve.
Cool it over an ice water bath, and then measure out the amount needed for the recipe (1 kg/2 lb 3.2 oz).
Set the bowls intended for the pastry cream aside on a flat sheet pan; each bowl should hold about 290 g/ 10.3 oz.
Follow the method for pastry cream.
Pour 290 g/10.3 oz of the pastry cream into each the bowls; tap the bowls down so that the pastry cream evens out on the surface of the bowl.
Reserve refrigerated; once the pastry cream has cooled, keep the bowls covered.
Take the bowls out of the refrigerator once you are ready to display them. Keep them uncovered during presentation.