Appears in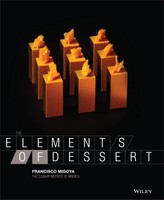 Ingredients
Butter, at 21°C/70°F 185 g 6.53 oz 18.5%
Sugar 165 g 5.82 oz 16.5%
Vanilla paste 4 g .12 oz .35%
Eggs, at 26°C/80°F 125 g 4.41 oz 12.5%
All-purpose flour 175 g 6.17 oz 17.5%
Baking powder 14 g .49 oz 1.4%
Salt 3 g .09 oz .25%
Crème fraîche 330 g 11.64 oz 33%
Method
Preheat a convection oven to 160°C/325°F.
Lightly grease the border of a half sheet pan with nonstick oil spray. Line the sheet pan with a nonstick rubber mat.
Follow the creaming method. The vanilla paste is added with the eggs. The crème fraîche is added at the end and is quickly mixed just to incorporate.
Spread the batter in the prepared sheet pan in an even layer using an offset spatula.
Bake until light golden brown around the border, 8 to 12 minutes.
Let it cool at room temperature. Once cool, refrigerate it for 2 hours; it cuts much better when it is cold.
Cut into rectangles measuring 6 mm/.25 in wide by 11.25 cm/4.5 in long by 6 mm/.25 in thick. Reserve covered in the freezer.