Appears in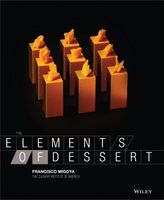 Ingredients
Mascarpone
1
kg
2
lb
3.2
oz
83.33
Method
Combine the mascarpone, vanilla paste, and sugar in a bowl and soften over a hot water bath until pourable, about 30°C/86°F.
Melt the bloomed gelatin in the microwave and then stir it into the mascarpone mixture quickly, using a whisk.
Pour it into a piping bag and assemble the desserts.