Appears in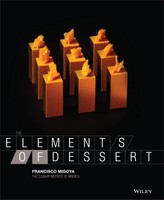 Ingredients
Butter 80 g 2.82 oz 24.24%
Sugar 80 g 2.82 oz 24.24%
Pastry flour 165 g 5.82 oz 50%
Ground cinnamon 4 g .14 oz 1.21%
Salt 1 g .04 oz .3%
Method
Preheat a convection oven to 160°C/325°F.
In the bowl of an electric mixer fitted with the paddle attachment, paddle the butter with the sugar for about 2 minutes simply to soften the butter. Meanwhile, sift the flour, cinnamon, and salt together.
Stop the mixer and add all of the dry ingredients at once. Pulse the mixer to incorporate the dry ingredients. Do not overmix; just mix enough to fully incorporate the ingredients together.
Pass the dough through a wire rack onto a sheet pan lined with parchment paper to make small morsels of streusel.
Bake the streusel until golden brown, about 10 minutes.
Cool to room temperature.
Once cool, reserve in a cool, dry area in an airtight container. Discard after 10 days.