Appears in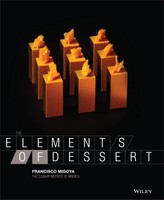 Ingredients
All-purpose flour 245 g 8.64 oz 40.83%
Rice flour 35 g 1.23 oz 5.83%
Salt 5 g 0.18 oz 0.83%
Butter, soft 210 g 7.41 oz 35.00%
Sugar 105 g 3.70 oz 17.50%
Method
Sift the all-purpose flour, rice flour, and the salt together.
In a mixer bowl fitted with a paddle attachment, cream the butter with the sugar until light and smooth on medium speed.
Turn the mixer off and add the dry ingredients to the creamed butter and sugar mixture. Pulse the mixer on and off until all of the dry ingredients are completely incorporated.
Make a flat block of dough with your hands and wrap it in plastic. Refrigerate until firm for about 1 hour.
Sheet out the dough using a sheeter or a rolling pin until it is about 2 mm/.08 in thick.
Freeze the dough. Meanwhile preheat a convection oven to 160°C/320°F.
Cut out the dough into squares that measure 7.5 cm/3 in x 7.5 cm/3 in. using a square cutter. Score each piece with a fork in four separate areas of the cookie.
Bake the dough until light golden brown around the border, about 6 minutes.
Cool off at room temperature. Reserve well covered in an airtight container in a cool dry place until you are ready to use it. Discard after 2 days or freeze it for up to 1 month.