Appears in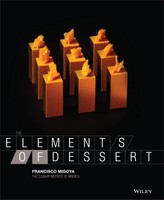 Ingredients
Bananas, very ripe 900 g 1 lb 15.68 oz 87.8%
Butter 100 g 3.53 oz 9.76%
Ground cinnamon 5 g .18 oz .49%
Tahitian vanilla powder 20 g .71 oz 1.95%
Method
Combine all of the ingredients in a 2.83-l/3-qt sauce pot. Cook over medium-high heat until the bananas have completely broken down. Purée this mixture using a handheld immersion blender.
Put the banana butter into a piping bag and pour it into 10 silicone spherical molds with a diameter measuring 4 cm/1.5 in.
Freeze the banana butter until hardened. Once hardened, the spheres can be pushed out of the molds and kept frozen in an airtight container. Discard after 2 months.