Appears in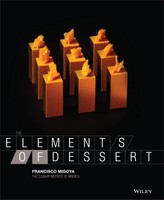 Ingredients
Gianduja 500 g 1 lb 1.76 oz 75.76%
Caramelized sugar 100 g 3.53 oz 15.15%
Canola oil 60 g 2.12 oz 9.09%
Method
Line a flat half sheet pan with a nonstick rubber mat. Place a 5 mm-/.2-in-thick frame over the nonstick mat (it should fit inside the sheet pan). Chop the gianduja finely and put into the bowl of an electric mixer fitted with the paddle attachment. Turn on the lowest speed.
Make a dry caramel with the sugar in a small sauce pot over high heat.
Stream the caramel into the gianduja in the mixer bowl slowly and increase the speed to medium. Stream in oil.
Allow to cool to room temperature before spreading into the frame.
Spread into the frame to create and evenly thick base.
Allow to harden in the refrigerator. Once hardened, cut out into 5 cm/2 in x 5 cm/2 in squares. Reserve well covered in an airtight container in refrigeration. Discard after 4 days or freeze for up to 1 month.