Appears in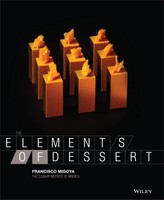 Ingredients
Egg whites 250 g 8.82 oz 31.25%
Superfine or bakers' sugar 80 g 2.82 oz 10%
Confectioners' sugar, sifted 250 g 8.82 oz 31.25%
Shredded coconut, finely ground 220 g 7.76 oz 27.5%
Method
Preheat a convection oven to 160°C/325°F.
Lightly grease the border of a half sheet pan with a coat of nonstick oil spray. Line it with a nonstick rubber mat.
Make a French meringue out of the egg whites and superfine sugar using the method.
Fold the confectioners; sugar and shredded coconut into the meringue.
Spread onto the prepared sheet pan in an even layer.
Bake until the center is dry but the mixture is not colored, 8 to 10 minutes.
Cool at room temperature. Once cool, refrigerate to chill. Once chilled, cut out 7.5-cm/3-in squares.
Reserve refrigerated until ready to assemble the dessert. Discard after 3 days.