Appears in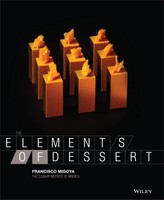 Ingredients
Pastry flour 105 g 3.7 oz 20.73%
Baking powder 4 g .14 oz .79%
Salt 1 g .02 oz .1%
Sugar 90 g 3.17 oz 17.77%
Brown sugar 50 g 1.76 oz 9.87%
Eggs 115 g 4.06 oz 22.7%
Butter, melted but cool 105 g 3.7 oz 20.73%
Honey 12 g .42 oz 2.37%
Milk 25 g .88 oz 4.94%
Method
Sift the pastry flour with the baking powder and salt.
Combine the sugars and eggs and whip using an electric mixer until they reach the ribbon stage.
Add the dry ingredients and mix until just combined. Add the melted butter, honey, and milk. Mix until just combined.
Reserve in the refrigerator for service. Bake to order, and discard after service.