Appears in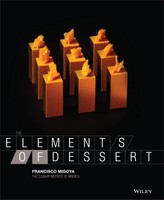 Ingredients
Cream cheese 290 g 10.23 oz 58%
Mascarpone 145 g 5.11 oz 29%
Vanilla paste 5 g .18 oz 1%
Confectioners' sugar 60 g 2.12 oz 12%
Method
Soften the cream cheese in a microwave until soft but not melted.
Mix all of the ingredients together over a double boiler with an immersion blender until smooth.
Use while still fluid to build carrot cake cubes. Any remaining cream can be cooled, refrigerated, and used for other desserts; it will need to be rewarmed over a hot water bath. Discard after 1 week.