Appears in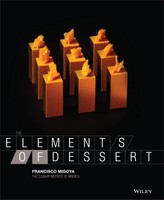 Ingredients
Water 175 g 6.17 oz 70%
Freeze-dried fruit powder/ freeze-dried peppermint powder 50 g 1.76 oz 20%
Potato starch 25 g .88 oz 10%
Method
Turn a dehydrator on to 65°C/150°F.
Prepare each desired flavor of crisp separately. Combine the water with the freeze-dried powder (see Resources) in a small, shallow sauce pot; stir until dissolved.
Stir in the potato starch and turn the heat up to high. Stir constantly until you obtain a gelatinous mass.
Spread the mixture as thinly as possible onto a sheet of acetate that will fit into your dehydrator.
Let the mixture dry completely in the dehydrator for about 4 hours.
Once it is dry, it will stay soft and pliable while it is still warm, but when it cools it will become crispy. Break the crisps into organic pieces 5 cm/2 in to 7.5 cm/3 in (they don't have to be perfect squares or shapes).
Keep the pieces in the dehydrator until you are ready to serve them.