Appears in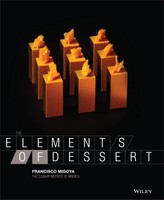 Ingredients
color
Vegetable ash powder 10 g .35 oz
Filling
Goat cheese, smooth 425 g 14.99 oz 77.27%
Acacia honey 125 g 4.41 oz 22.73%
Method
To color the macarons, add the vegetable ash powder to the flour-sugar mixture before placing it in the Robot Coupe.
For the filling: Place both ingredients inside an electric mixer bowl and mix with the paddle attachment until smooth.
Have half of the macarons flipped over and ready to be filled. Pipe the filling onto the macaron bases. Place the top macaron over the filling and gently push down. Reserve refrigerated.