Appears in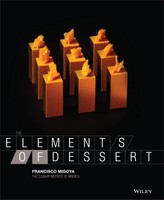 Ingredients
Color
Sage leaves, dehydrated 10 g .35 oz
Filling
Foie gras, deveined, soaked in milk overnight 930 g 2 lb .8 oz 93%
Pedro Ximénez sherry 50 g 1.76 oz 5
Salt 15 g .53 oz 1.5%
Black pepper, freshly ground 5 g .18 oz .5%
Method
To color the macarons, grind the sage leaves in a coffee grinder.
Combine the sage leaves with the flour-sugar mixture before placing it in the Robot Coupe.
For the filling: Remove the foie gras from the milk and pat dry with a clean towel. Temper for 2 hours before making the mousse; this reduces the cooking time. Make sure to keep it well covered with plastic wrap to reduce oxidation. Prepare an ice water bath.
Have half of the macarons flipped over (flat side up) ready to be filled. Have a piping bag ready with a #2 tip.
Set the timer on a Thermomix for 5 minutes and the temperature to 80°C/175°F. Do not put the ingredients into the Thermomix cup until the machine reaches the right temperature, which will take about 2 minutes. Otherwise, it will make your foie gras too hot and it will break or separate.
Without delay, once the desired temperature is reached, turn the machine off and put all of the filling ingredients in the cup. Set the machine on speed 3 for 2 minutes. Turn the machine on and let it mix for the allotted time.
Pour the contents of the pitcher into a bowl that will fit comfortably inside the ice water bath. Remove the ice from the ice water bath and place the bowl with the foie gras inside the cold water bath. Stir until it has the consistency of a smooth ganache.
Transfer the filling into the prepared piping bag and pipe it onto the macaron bases. Place the top macaron over the filling and gently push down. Reserve refrigerated.