Appears in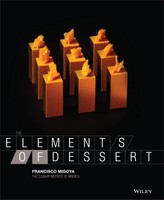 Ingredients
Color
Yellow natural food coloring, water based as needed as needed
Orange natural food coloring, water based as needed as needed
Filling
Dried apricots 200 g 7.05 oz 23.53%
Water 400 g 14.11 oz 47.06%
Sugar 250 g 8.82 oz 29.41%
Vanilla pod, split and seeds scraped 1 1
Sicilian pistachios 400 g 14.11 oz
Method
To color the macarons, add a few drops of yellow and orange food coloring in Step 4 of the master recipe, to resemble the color of an apricot.
For the filling: Combine the dried apricots with the water and bring them to a boil. Let the apricots reconstitute in the water for about 30 minutes, then drain the apricots. You will have about 300 g/10.58 oz or more of apricots; you can include them all in the recipe without a negative effect.
Combine the apricots, sugar, and vanilla pod and seeds in a pot. Bring to a boil, and then reduce to a simmer. Cook until the mixture reaches 68° Brix.
Discard the vanilla pod and cool the mixture over an ice water bath. Transfer the mixture to a piping bag fitted with an #802 straight tip.
Pipe a ring around the border of half of the macarons. The pistachios will go in the center of the macaron.
Preheat a convection oven to 160°C/325°F.
Chop the pistachios by hand as finely as possible. Don't use a Robot Coupe; you may obtain very uneven pieces.
Place the pistachios on a sheet pan lined with a nonstick rubber mat. Toast until aromatic, about 5 minutes. Cool to room temperature.
Fill the center of the piped macarons with the pistachios. Place the top macaron over the filling and gently push down. Reserve refrigerated.