Appears in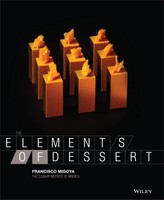 Ingredients
Color
Light green natural food coloring, water based as needed as needed
Filling
Toasted marcona almonds 300 g 10.58 oz 42.86%
Candied angelica, cut into brunoise (see Resources) 400 g 14.11 oz 57.14%
Method
To color the macarons, apply a few drops of food coloring in Step 4 of the master recipe.
For the filling: Place the almonds in a Robot Coupe while they are still warm and grind them to a smooth paste.
Pipe a 1.25-cm/.5-in diameter ring of the almond paste at the center of half of the cookies.
Spoon the candied angelica brunoise around the almond paste. Place the top macaron over the filling and gently push down. Reserve refrigerated.