Appears in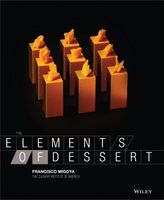 Ingredients
Blanched Hierba Santa Leaves
Water 3 kg 6 lb 9.76 oz</
Method
For the blanched hierba santa leaves: Bring the water, ascorbic acid, and salt to a rolling boil.
Meanwhile, set up an ice water bath large enough to hold all of the leaves.
Dip the leaves all at once into the boiling water. Make sure to fully submerge them in the water. Blanch the leaves for 7 to 10 seconds or until they are wilted.