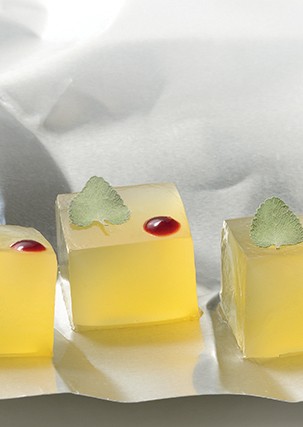 Appears in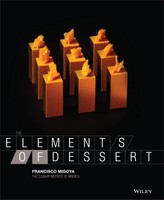 Ingredients
Lemon Verbena Infusion
Water 1.03 kg 2 lb 4.48 oz 86.25%
Fresh lemon verbena 40 g 1.41 oz 3.33%
Sugar 125 g 4.41 oz 10.42%
Gelée
Lemon Verbena Infusion 800 g 1 lb 12.32 oz 99.3%
Gellan gum, low acyl 6 g .2 oz .7%
Method
For the infusion: Bring the water up to just under a boil. Pour it over the verbena leaves. Let them steep for 5 minutes, then strain the leaves out of the infusion.
Stir in the sugar while the infusion is still hot so that it dissolves completely.
Cool in an ice water bath.
For the gelée: Set up forty 2.5-cm/1-in cube molds on a flat sheet pan.
Combine both ingredients in a 1.92-L/2-qt sauce pot using a whisk. Bring to a boil.
Pour the liquid into a funnel gun and pour the liquid into the prepared molds. Fill each mold up to 2.5 cm/ 1 in high (about 20 g/.7 oz).
Let set in the refrigerator. Discard after 2 days.