Appears in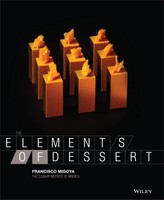 Ingredients
Steeped milk 1.07 kg 2 lb 5.6 oz 58.47%
Heavy cream 140 g 4.94 oz 7.65%
Powdered milk 70 g 2.47 oz 3.83%
Sugar 270 g 9.52 oz 14.75%
Ice cream stabilizer 5 g .18 oz .27%
Egg yolks 115 g 4.06 oz 6.28%
Chartreuse verte 160 g 5.64 oz 8.74%
Method
Follow the modern ice cream method; add the Chartreuse at the end of the churning process.
Let the base age for at least 4 hours before churning.
Churn the ice cream base. When it is completely frozen, add the Chartreuse as the machine is still spinning. Let it spin for a few more seconds so that the liquor is completely incorporated.
Pour into a piping bag fitted with a #8 tip.