Appears in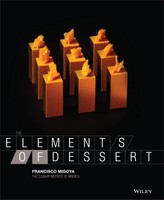 Ingredients
Heavy cream 1.9 kg 4 lb 3 oz 69.55%
Instant coffee powder 30 g 1.06 oz 1.1%
Sugar 400 g 14.11 oz 14.64%
Salt 2 g .07 oz .07%
Egg yolks 400 g 14.11 oz 14.64%
Method
Lightly grease four 5-cm/2-in deep half hotel pans with a coat of nonstick oil spray. Line them with plastic wrap.
Preheat a convection oven to 135°C/275°F.
Assemble four full-size hotel pans (one for each half hotel pan) and 2 gallons of very hot water.
Put the heavy cream, coffee powder, half the sugar, and the salt in a pot over high heat.
Put the other half of the sugar in a bowl with the egg yolks. The bowl should be large enough to hold all of the ingredients.
Once the heavy cream mixture boils, slowly pour it into the yolk mixture while stirring with a whisk. Incorporate all of the heavy cream mixture.
Portion 680 g/1 lb 8 oz into each prepared half hotel pan.
Put each half hotel pan inside a large hotel pan.
Place each setup in the oven. Pour 2 l/2 qt of hot water into each large hotel pan.
Bake until the custards are just set, about 20 minutes. Check them by tapping on the pan. Look for a gelatinous jiggle, which means the custard is just set. If the custard base sloshes around the pan, the custard is not yet set and needs to bake further.
Cool the custards out of the large hotel pans at room temperature. Once cool, freeze the custards to harden them.
Once hardened, remove them from their baking pans. Remove the plastic and cut each custard into a square that measures 17.5 cm/7 in on each side. Reserve the custards frozen until ready to assemble the cake. Discard after 1 month.