Appears in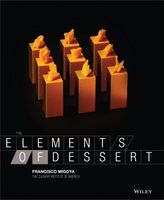 Ingredients
Doughnut Purée
Cake doughnuts 650 g 1 lb 6.92 oz
Method
For the doughnut purée: Break the doughnuts into small morsels.
Combine the doughnuts, cream, and sugar in a pot, bring the cream to a boil, and then turn off the heat. Let the doughnuts soak up the cream and become completely soft.
Purée the mixture until smooth using a handheld immersion blender.
Reserve warm to make the cream.