Appears in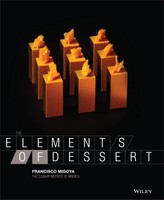 Ingredients
All-purpose flour 720 g 1 lb 9.28 oz 32.43%
Almond flour 440 g 15.52 oz 19.82%
Confectioners' sugar 360 g 12.7 oz 16.22%
Salt 20 g .71 oz .9%
Butter, cut into 1.25-cm/ .5-in cubes 440 g 15.52 oz 19.82%
Butter, melted but cool 240 g 8.47 oz 10.81%
Method
Preheat a convection oven to 160°C/325°F. Line a full sheet pan with a nonstick rubber mat.
In a Robot Coupe, combine the flours, sugar, and salt, and mix. Stop, add the cubed butter, and mix until fully incorporated.
Spread the mixture out on the prepared sheet pan and bake until golden brown, 15 to 20 minutes.
Let it cool; transfer to a Robot Coupe and grind to a fine powder. Pour in the melted butter and let the mixture come together into a solid mass.
Spread it out in a 3-mm/.1-in-thick frame. Reserve in the refrigerator until hardened. You may cut the dough to the sizes you need after the dough has chilled in order to get a clean cut. Any unused dough may be frozen. When shaping the tart, keep the top and bottom rectangles frozen, and the strip that will be the middle of the cake in the refrigerator so that it stays flexible.