Appears in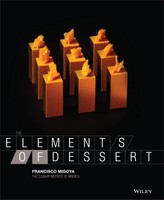 Ingredients
Chocolate liquor 170 g 6 oz 8.5%
Dark chocolate coins (55%) 220 g 7.76 oz 11%
Butter 85 g 3 oz 4.25%
Eggs, at room temperature 300 g 10.58 oz 15%
Sugar 520 g 1 lb 2.24 oz 26%
Vanilla paste 5 g .18 oz .25%
Coffee extract 5 g .18 oz .25%
Pastry flour 85 g 3 oz 4.25%
Salt 3 g .11 oz .15%
Baking powder 7 g .25 oz .35%
Chocolate chunks 600 g 1 lb 5.12 oz 30%
Method
Line 3 full sheet pans with parchment paper.
Combine the chocolate liquor, dark chocolate, and butter and melt it slowly in the microwave. It must not be too hot; 43°C/110°F is warm enough.
In a 4.73-l/5-quart electric mixer whip the eggs, sugar, vanilla, and coffee extract for 10 minutes on mediumhigh speed, until the mixture reaches the ribbon stage.
Once the eggs have achieved maximum volume (quadrupled from its original volume), turn the mixer to low speed and add the melted chocolate mixture.
Take the mixture off the mixer, scrape down the bowl well, and insert the paddle attachment.
Mix in the flour, salt, and baking powder on speed 1 and scrape to thoroughly incorporate all of the ingredients.
Add the chocolate chunks and mix thoroughly.
Let the batter cool and firm up before scooping. Scoop the cookies when a scoop of batter doesn't spread any longer.
Scoop all of the batter onto the prepared sheet pans using a #10 scoop. Leave about 5 cm/2 in between each scoop.
Freeze the cookies before baking them.
Preheat a convection oven to 160°C/325° F. Bake the cookies until firm, 12 to 14 minutes.
Cool at room temperature. Reserve the cookies for the cookie purée. If not using soon, reserve in an airtight container at room temperature for up to 2 days or frozen for up to 1 month.