Appears in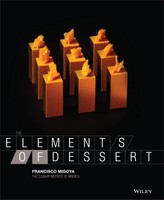 Ingredients
Butter 385 g 13.58 oz 30.8%
Sugar 230 g 8.11 oz 18.4%
All-purpose flour 380 g 13.4 oz 30.4%
Cocoa powder 140 g 4.94 oz 11.2%
Baking powder 4 g .14 oz .32%
Salt 1 g .04 oz .08%
Butter, melted but cool 110 g 3.88 oz 8.8%
Method
See the method for shortbread to make the dough. Chill the dough for at least 1 hour.
Roll the dough to 3 mm/.1 in thick on a sheeter or by hand using a rolling pin. Chill the dough again and then dock it with a fork.
Preheat a convection oven to 160°C/325°F.
Bake the shortbread until firm, about 10 minutes. Cool at room temperature.
Grind in a Robot Coupe until uniform, fine crumbs are obtained.
Pour in the melted butter to form a uniform mass.
Sheet the dough out to 3 mm/.1 in thick. Freeze to harden. Once hard, cut out 4 squares measuring 17.5 cm/7 in long on each side.
Reserve frozen until ready to assemble the cake. Discard after 1 month.