Appears in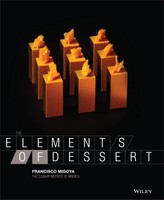 Ingredients
Hibiscus Infusion
Dried hibiscus leaves 50 g 1.76 oz 11.11%
Water, at 95°C/205°F 400 g 14.11 oz 88.89%
Hibiscus Veil
Hibiscus Infusion 75 g 2.65 oz 36.82%
Water 75 g 2.65 oz 36.82%
Simple syrup, at 50° Brix 50 g 1.76 oz 24.55%
Agar-agar 3 g .11 oz 1.47%
Gellan gum, high acyl 1 g .02 oz .34%
Method
For the infusion: Combine the hibiscus leaves and water and infuse for 5 minutes.
Strain out the hibiscus flowers and cool the infusion to room temperature. Reserve in the refrigerator for up to 1 week.
For the veil: Combine all of the ingredients in a small sauce pot and bring to a boil while stirring with a whisk.
Pour into a very flat tray and let it set there.
Using a ruler and the back of a paring knife, cut the veil into rectangles measuring 5 cm/2 in wide by 20 cm/8 in long.
Reserve the tray wrapped in plastic wrap in the refrigerator until ready to assemble the cake.