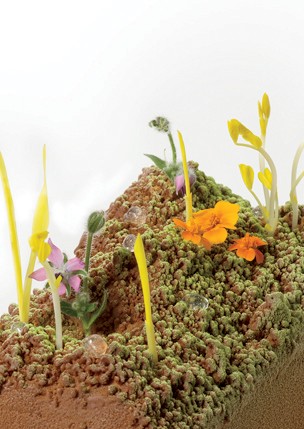 Appears in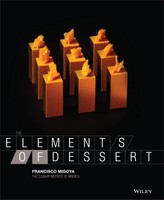 Ingredients
Cake flour 220 g 7.76 oz 10.96%
Salt 3 g .11 oz .15%
Dark chocolate 280 g 9.88 oz 13.94%
Butter 340 g 11.99 oz 16.93%
Eggs 300 g 10.58 oz 14.94%
Sugar 400 g 14.11 oz 19.92%
Brown sugar 145 g 5.11 oz 7.22%
Walnuts, chopped and toasted 160 g 5.64 oz 7.97%
Chocolate chips 160 g 5.64 oz 7.97%
Method
Lightly grease the border of a half sheet pan with nonstick oil spray. Line it with a nonstick rubber mat.
Preheat a convection oven to 160°C/325°F. Sift the cake flour and salt together.
Melt the chocolate and butter together over a hot water bath.
Whip the eggs and sugars to the ribbon stage in the bowl of an electric mixer on high speed.
Stir the melted chocolate and butter into the whipped egg mixture. Stir in the dry ingredients and then fold in the walnuts and chocolate chips.
Spread evenly onto the prepared sheet pan. Bake until set, 12 to 18 minutes.
Cool at room temperature and then refrigerate the cake to cut it (it cuts easier and cleaner when cold; do not freeze it, though, as it will be too hard to cut). Cut out 4 rectangles measuring 7.5 cm/3 in wide by 17.5 cm/7 in long. Reserve cold until ready to assemble the cake.