Appears in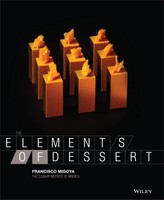 Method
Line a half sheet pan with a nonstick rubber mat. Place a 1.25-cm/.5–in-deep frame inside the sheet pan.
Pour the warm curd into the frame.
Let it set in the freezer.
Once set, remove the frame. Flip the curd over onto a sheet of parchment paper and peel off the nonstick rubber mat.
Cut out 4 rectangles measuring 7.5 cm wide by 17.5 cm/7 in long.
Reserve the rectangles frozen until ready to assemble the cake.