Appears in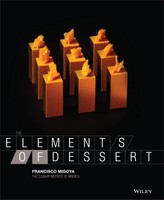 Ingredients
Litchi purée 800 g 1 lb 12.16 oz 95.24%
Gelatin, sheets, silver, bloomed in cold water, excess water squeezed off 40 g 1.41 oz 4.76%
Method
Warm the litchi purée to 40°C/105°F over a hot water bath. Add the gelatin and stir until it has dissolved completely.
Pour into a hot pan and let set completely in the refrigerator.
Unmold the set gelée onto a cutting board (turn the hotel pan over onto a cutting board and apply heat to the pan with a blow dryer; it will release onto the cutting board). Cut into medium-dice pieces (the shape does not need to be perfect) with a knife.
Reserve refrigerated until ready to assemble the cake.