Appears in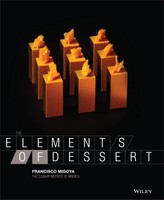 Ingredients
Heavy cream 600 g 1 lb 5.15 oz 50%
Dark chocolate 500 g 1 lb 1.64 oz 41.67%
Butter, soft 100 g 3.53 oz 8.33%
Method
Bring the heavy cream to a boil and pour it over the dark chocolate.
Let sit for 10 seconds, and then stir the cream into the chocolate to create a homogeneous mix.
When the mixture cools to about 30°C/86°F, stir in the soft butter. You will need to "push" it into the ganache with the rubber spatula, pressing against the side of the bowl. At this temperature the butter does not dissolve or melt; it will merely be mixed in.
Once you do not see any butter pieces, the ganache is ready to use.