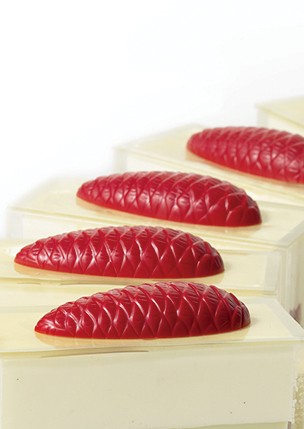 Appears in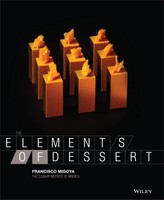 Ingredients
All-purpose flour 330 g 11.64 oz 21.78%
Beet powder 45 g 1.59 oz 2.97%
Sugar 360 g 12.7 oz 23.76%
Baking powder 15 g .53 oz .99%
Eggs, at room temperature 150 g 5.29 oz 9.9%
Butter, melted but cool 165 g 5.82 oz 10.89%
Raspberry purée, at room temperature 330 g 11.64 oz 21.78%
Sour cream, at room temperature 45 g 1.59 oz 2.97%
Chambord liqueur 75 g 2.65 oz 4.95%
Method
Lightly grease the interior border of a half sheet pan. Line it with a nonstick rubber mat.
Preheat a convection oven to 160°C/320F.
Combine the flour, beet powder, sugar and baking powder, and sift them.
Place the eggs in a bowl. Slowly pour the butter in while whisking to create an emulsion. Repeat with the raspberry purée, sour cream, and Chambord.
Stir in the dry ingredients and whisk until just combined.
Pour the batter into the prepared sheet pan.
Bake until done, 10 to 15 minutes. It will spring back when gentle pressure is applied with your fingertips to the center of the sponge cake.
Cool to room temperature and then chill in the refrigerator.
Cut out squares measuring 7.5 cm/3 in on each side by 1.25 cm/.5 in thick.
Reserve well covered in the refrigerator until ready to assemble the cakes.