Appears in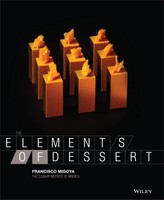 Ingredients
Pastry Cream 1.1 kg 2 lb 6.72 oz 59.46%
Lecithin powder 8 g .28 oz .43%
Egg white powder 11 g .39 oz .59%
Skim milk 580 g 1 lb 4.46 oz 31.35%
Gelatin sheets, silver, bloomed in cold water, excess water squeezed off 20 g .71 oz 1.08%
Sugar 125 g 4.41 oz 6.76%
Vanilla paste 6 g .21 oz .32%
Method
Stir the pastry cream with a whisk to loosen it up. Make sure the molds are assembled with the cake and the wafer paper.
Ber mix the lecithin powder and egg white powder with 60 percent of the milk, and then place it in a mixer bowl with the whip attachment.
Combine the remaining milk with the gelatin and sugar. Warm the mixture up just enough to melt the gelatin.
Add to the mixture in the bowl and whip on high speed; wrap the mixer with plastic or else you will have a mess on your hands.
Place a bowl with ice water under the bowl as it whips to cool the gelatin and so that it starts foaming the mix. This takes a very long time to whip, so be patient. Whip until it looks like egg whites whipped to stiff peaks; then add the vanilla paste and remove from the mixer. Fold the whipped milk foam into the loosened pastry cream in 2 additions. Pour into a piping bag.
Fill the Plexiglas cubes to the top. Even out the top and set in the refrigerator.