Appears in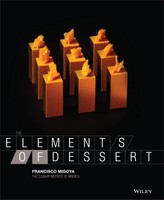 Ingredients
Water 88 g 3.09 oz 11.08%
Glucose syrup 1 80 g 2.82 oz 10.13%
Sugar 1 40 g 1.41 oz 5.06%
Pectin 10 g .35 oz 1.27%
Glucose syrup 2 155 g 5.47 oz 19.62%
Sugar 2 330 g 11.64 oz 41.77%
Meyer lemon juice 88 g 3.09 oz 11.08%
Superfine sugar as needed as needed
Method
Using caramel bars (heavy stainless-steel bars), make a frame measuring 20 cm/8 in wide by 27.5 cm/11 in long by 5 mm/.2 in deep over a nonstick rubber mat.
Sprinkle superfine sugar over the surface of the mat.
Combine the water and the first amount of the glucose syrup in a sauce pot. Mix until the glucose has dissolved.
Combine the first amount of sugar and the pectin and slowly pour into the glucose mixture while whisking constantly.
Bring the mixture to a boil, and then add the second amount of glucose syrup. Add the second amount of sugar.
Cook the mixture to 107°C/225°F. Remove the pot from the heat and stir in the Meyer lemon juice until a homogenous mass is achieved.
Pour the pâte de fruit into the prepared frame. Let it set for a few minutes, and then sprinkle the entire surface with superfine sugar.
Once the pâte de fruit has set, cut it into triangles measuring 5 cm/2 in wide by 27.5 cm/11 in long. Discard after 1 month or after the outer layers start to dry out.