Appears in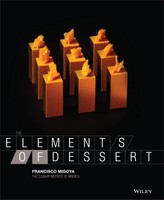 Ingredients
Pastry flour 160 g 5.64 oz 15.94%
Sugar 210 g 7.41 oz 20.93%
Egg whites 420 g 14.82 oz 41.85%
Superfine or bakers' sugar 210 g 7.41 oz 20.93%
Cream of tartar 1 g .04 oz .1%
Salt 3 g .09 oz .25%
Method
Line a half sheet pan with a nonstick rubber mat. Do not spray the border of the sheet pan, since angel food cake needs something to adhere to as it bakes; otherwise it will pancake while it cools.
Preheat a convection oven to 160°C/320°F. Sift the pastry flour and sugar together.
Whip the egg whites on high speed with the superfine sugar, cream of tartar, and salt.
Fold in the sifted dry ingredients by hand.
Pour the batter into the prepared pan and spread it out in an even layer using an offset spatula.
Bake until the surface turns golden brown, 12 to 15 minutes.
Let the angel food cake cool at room temperature.
Once the cake has cooled, freeze it. This cake cuts much easier once it is frozen.
Cut the cake into 4 triangles measuring 5 cm/2 in wide by 27.5 cm/11 in long, and freeze them until needed. The cakes will keep for up to 3 months in the freezer.