Appears in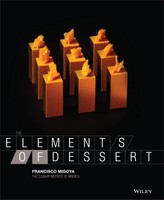 Ingredients
Gianduja, chopped 1 kg 2 lb 3.2 oz 79.37%
Sugar 200 g 7.05 oz 15.87%
Water 50 g 1.76 oz 3.97%
Canola oil 10 g .35 oz .79%
Method
Put the gianduja in the bowl of an electric mixer fitted with the paddle attachment.
Combine the sugar and water in a small pot and cook over high heat to obtain a medium-dark caramel. The quantity is too small to use a thermometer; there is no thermometer that has a probe that could be submerged into such a small amount of sugar, so go by the color.
Turn the mixer on medium speed and carefully pour the sugar down the sides of the bowl; avoid pouring on the paddle since it can splatter and be dangerous. Once all of the sugar has been poured in and the gianduja has melted, pour in the oil and mix thoroughly.
Divide the feuilletine in equal parts by pouring about 300 g/10.58 oz over each of the dacquoise disks. Make sure it spread out evenly over the cake.
Allow to set in the refrigerator.
Once the feuilletine is set, remove the cake rings and reserve this set (the dacquoise with the feuilletine disks) in the freezer until ready to assemble the cakes.